Eduardo Olmos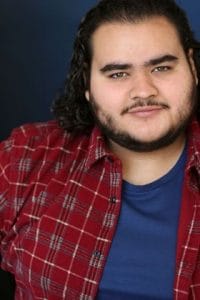 He played in Jackie Perez's Dollar Baby Beachworld as Dud.
SKSM: Could you start with telling me a little bit about yourself? Who are you and what do you do?
Eduardo Olmos: Hello! My name is Eduardo Olmos. I'm an actor. I was born and grew up in Mexico, but have been living in the US for a good bit now. I was very fortunate to train and study acting in New York at NYU Tisch, and moved to LA shortly after graduating to pursue acting. Beachworld was actually my first job, and I'm so happy it was. Working with Jackie, as well as the rest of the cast and crew made for a great time.
SKSM: When did you know you wanted to become an actor?
Eduardo Olmos: I've loved performing most of my life, but somewhere around my sophomore year of high school I decided I wanted to seriously pursue acting. My first real show was Shakespeare's Twelfth Night, a fourteen year old with not a lot of English playing the ship's Captain. I didn't really know what was going on most of the time, to be quite honest. I was still learning English. But I knew I liked it, and so it began.
SKSM: How did you become involved in Beachworld Dollar Baby film?
Eduardo Olmos: I had just arrived in LA a few weeks before, and met Tom McCafferty (he played Rand as well as Co-Produced the short) on a different set I was helping with. We talked during a break and he introduced me to Jackie, who offered me the role. Thank you, Tom!
SKSM: What do you think it is about the story that attracts people so much?
Eduardo Olmos: I think anything that Stephen King writes is going to have inherent appeal to it. He's a modern literary master. But what made it translate so well is Jackie's love for the work and storytelling. You could really feel it throughout the process. She created a production that made the work shine. Working to showcase the source material and letting the story shine is part of what this particular one so attractive. And just as importantly her excitement I think is palpable. This is the work of someone who loves what they do.
SKSM: Did you have to audition for the part or was it written directly for you?
Eduardo Olmos: I read a little bit for Jackie, and we also talked about it. I was very excited to come on board as I could tell Jackie was going to make the experience a fun one.
SKSM: You worked with Jackie Perez on this film, how was that?
Eduardo Olmos: It was great! She was always very responsive to questions or concerns the actors had, while leading cast and crew with a sense of teamwork and collaboration. It was a pleasure, and would be happy to work with her again in the future!
SKSM: Was there any funny or special moment when they made the movie that you would like to tell me about?
Eduardo Olmos: Shooting the gory bits was particularly fun. It's hard not to feel a rush of excitement when you get to play in these parts. Seeing blood sputtering all over the place as you drown in your own froth is always going to be fun to shoot.
SKSM: Do you still have any contact with the crew/cast from that time? If so with who?
Eduardo Olmos: I follow several of the talented cast and crew on socials. I love to stay updated!
SKSM: What are you working on nowadays?
Eduardo Olmos: As of now things are quiet on the acting front because of the pandemic. So I've been focusing on writing some shorts, working on comedy, reading, and planning a wedding. I got engaged last November and planning what we can for next year has been very fun. On the acting front, once doors open again it will be back to the grind! I'm very excited.
SKSM: Are you a fan of Stephen King's work?
Eduardo Olmos: I am! My dad and my fiancee are huge fans, so they've continued to expose me to his work. A lot of the adaptations as well have influenced much of my understanding of horror. Watching De Palma's Carrie by myself as a ten year-old was at once a huge mistake and a revelation. It is the coolest thing to be able to figure into an adaptation years later as an actor.
SKSM: What is one thing people would be surprised to know about you?
Eduardo Olmos: I can sleep anywhere. I'm not sure if this is a skill of some kind… Should I be worried?
SKSM: Thanks for taking the time to answer my questions. Is there anything you want to say to the fans that read this interview?
Eduardo Olmos: I'd like to thank everyone who supports Beachworld and independent film in general! It's your support that carries this industry forward and makes working at it worth it.
SKSM: Do you like to add anything else?
Eduardo Olmos: Thanks for reaching out! And thanks again to Jackie, Tom, the cast and the crew for making this such a fun experience.