In the summer of 2003, some Stephen King fans from the Netherlands discovered that there were so-called Dollar Babies. After research we separately managed to get hold of some such as Paranoid (Jay Holben) and Strawberry Spring (Doveed Linder) and were shared among each other. To make it easy for everyone I offered at the time on a private page so that the Stephen King fan from the Netherlands could download it. The image quality (*.wmv) at the time was good.
The idea for Stephen King Short Movies was born.
In the meantime, Upstart Film Collective had been contacted to host Night Surf (Peter Sulivan). This took place in November 2003 and Stephen King Short Movies was a fact. Within 4 hours of Night Surf being online, 20 GB of data was consumed. That was my entire margin for one month, which caused the website to go offline automatically. Because I paid for everything myself and it became too expensive for me, I went looking for a sponsor.
Ruud Goedhart, himself a Stephen King fan from the Netherlands and wanted to sponsor me with his hosting company (Chemical Web Hosting). My monthly data expanded from 20 GB to sufficient capacity per month so that the website no longer went offline. The domain name stephenkingshortmovies.com was also registered. Ruud has lived in America since 2009 and sold his hosting company at the time.
At the beginning of 2004 an amateurish website was developed on which a few things were shared in terms of short films. Over the years, Stephen King Short Movies grew into a true phenomenon.

Due to the great interest in Dollar Babies, at the end of 2004 (one year after Stephen King Short Movies came into existence) the first official Dollar Baby Film Festival was organized in Maine, USA by James Renner (All That You Love Will Be Carried Away). This was organized again in 2005.
In 2010 (5 years later) an official film festival was organized for the first time on American soil. In the meantime, similar festivals have been organized in various other countries such as; Netherlands, Spain, Argentina and Russia.
In April 2006, Stephen King Short Movies was approached by an Asian television station asking for permission to broadcast what was being offered online. I have shared this information with Marsha de Flippo (assistant Stephen King) as Stephen King Short Movies is not about the rights.
Shortly afterwards, I was kindly requested by Marsha to take the official Dollar Babies offline as there apparently existed a contract stating that they were not allowed to be offered online. In previous periods, there was more contact with Marsha and she also referred to the website, but never received a message that offering Dollar Babies online was not allowed.
Today many of these official Dollar Babies (often older ones) can be found in other places where they have been (for now) uploaded illegally.
From 2012 to 2016, Stephen King Short Movies did not go well. The company where Stephen King Short Movies was housed was hacked several times, causing a lot of data to be lost and visitors to stay away. Stephen King Short Movies was more often offline than online.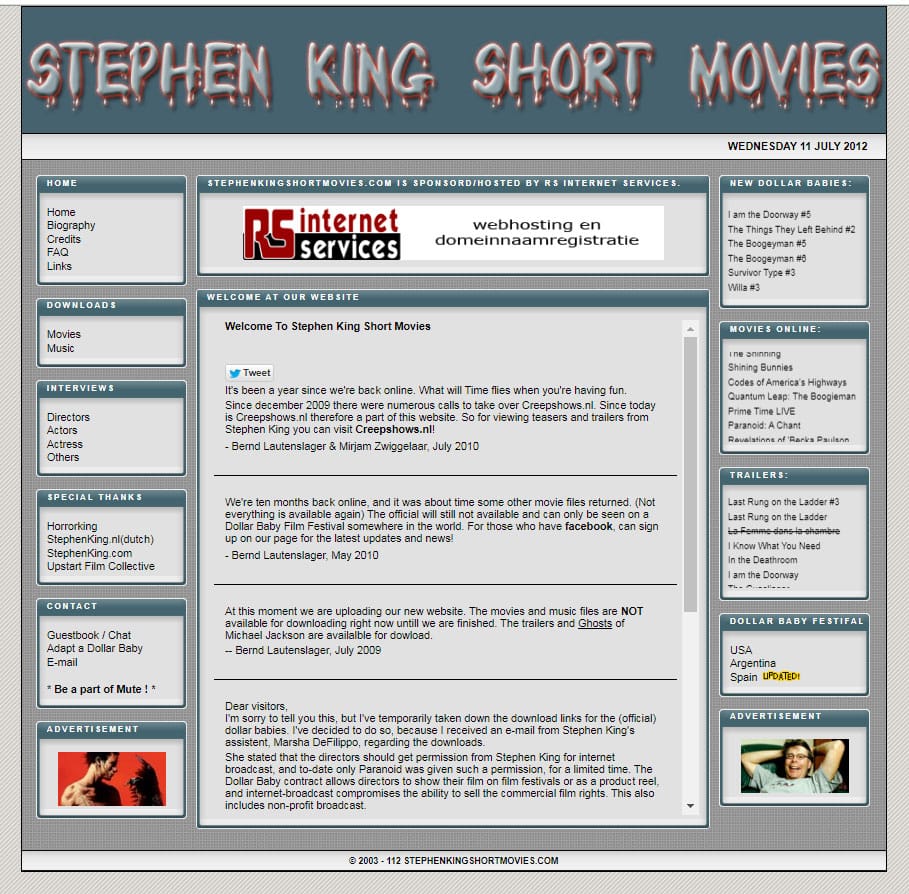 In the summer of 2016, Stephen King Short Movies was housed at Xynta.com in the Netherlands and has not been offline anymore and the management of the website, which was done all the time by one person (Bernd Lautenslager) has been extended to a second person; Oscar Garrido from Spain. Oscar has breathed new life into Stephen King Short Movies and I am grateful to him for that.
November 2003 -> November 2023, 20 years of Stephen King Short Movies. With ups and downs, Stephen King Short Movies looks forward to its 20th anniversary and, of course, the years to come.