Here there be tygers (Mike Johnston)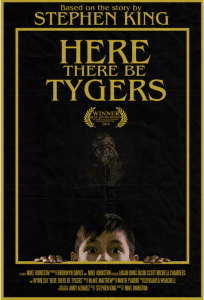 Title: Here there be tygers (2017)

Runtime: 6′
Director: Mike Johnston
Script: Mike Johnston
Cast: Logan Oung, Michela Chalmers, Jacob Scott, Wynn Siu.
Composer: Blake Matthew

Imdb | Instagram
Third grade student Charles really needs to go to the bathroom. And when his evil teacher Miss Bird finally releases him to go and relieve himself, he arrives at the bathroom to find a full-grown tiger sitting outside of the stalls.
(note: we do not host the movie or trailer)
Let us know what you thought of it in the comments. See bottom of page.