A.J. Gribble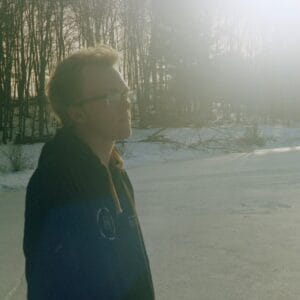 He is the filmmaker of Garrish Dollar Baby film.
SKSM: Can you introduce yourself to our readers?
A.J. Gribble: Hello, I'm A.J. Gribble and I'm the director of Garrish! Started making films when I was about 14 with an iPod and haven't stopped since.
SKSM: When did you make Garrish? Can you tell me a little about the production? How much did it cost? How long did it take to film it?
A.J. Gribble: We made Garrish back in May-June 2019. Honestly, filming only took a few days. It was about a few months after we premiered Cain Rose Up that we started writing and filming. It didn't cost anything to make it haha! It was filmed on my iPhone 7 with a stabilizer and a few attachable lenses. We just used whatever we could that wouldn't cost any money and I kinda just pointed and shot then on to the next scene.
SKSM: Garrish is the Cain Rose Up prequel. Why did you film the prequel later?
A.J. Gribble: We didn't think of making a prequel. We made Cain Rose Up first. After it premiered, I thought about filming an extra scene to add in as a flashback. And the more I talked about it with the lead Natasha Bogutzki, she started thinking of more ideas and that eventually turned into a whole script for a prequel film. So after we wrote it after only like 3 days we just went out and filmed! It just sort of… happened haha!!
SKSM: How the casting process went?
A.J. Gribble: The casting was really easy. It was just a mix of actors that Natasha knew from the plays that she's done and people I knew and it was really easy.
SKSM: How did you get the permission to film in a real college?
A.J. Gribble: I'm apart of the radio station at King's College. The station manager Sue Henry, helped me get permission to film and King's was really supportive of the movie being filmed there.
SKSM: Was there any funny or special moment when you made the movie that you would like to tell me about?
A.J. Gribble: Oh man… Lights always going out during a scene. Too many cars passing by in the background and ruining a take. Filming after a huge storm in a cemetery is not fun! Also just me tripping with the camera in my hand… I never claimed to be the best filmmaker out there!
One thing I would love to tell is about a member of the cast, Joe Blizman. We filmed with him for the dinner scene for only a few hours. It was his first time acting, he's always wanted to do it and he was so excited and nervous. He was so proud after it was over and even made a blog post about it and was… just so excited. And then a few days after we filmed with him, he died. It was just so sudden and heartbreaking. He'll live forever through this movie and he'll always be remembered.
SKSM: What "good or bad" reviews have you received on your film?
A.J. Gribble: There's been a lot of good reviews for this film. It premiered at the Stephen King Rules film festival last year and that was a lot of fun! A lot of talented filmmakers and people at that festival. When Garrish premiered on the second day, a lot of people in the chat seemed to really liked it and get into it! So I was really happy to see that. A lot of people praising my directing, writing, Natasha's acting and and then rest of the cast. The score of the film by OneManStanding. Just… everything that I worked hard on, they praised and I'm forever grateful.
Of course, there was a good amount of not so good reviews out there. And because I don't have that much confidence in myself, I need to look at the bad criticisms to humble myself and see what I can do to improve.
SKSM: What's the next to A.J. Gribble?
A.J. Gribble: What's next for me?…. That's the big question, isn't it? Haha! Finishing up a script at the moment and hoping to start filming this summer! It's very different to what I've done already so I'm excited.
SKSM: Thanks for taking the time to answer my questions. Is there anything you want to say to the fans that read this interview?
A.J. Gribble: Thank you for having me back! This was fun. To the fans… keep on supporting indie filmmaking! It's such a big and great community and everyone appreciates it when you take the time to watch their movies and talk with them about it. It means a lot, especially to me. Keep on rocking!