Andrew Olszewski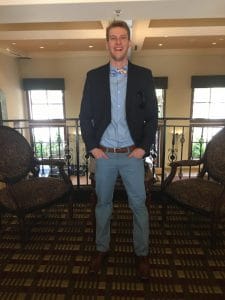 He played in Max Richter's Popsy as The Thug.
SKSM: Could you start with telling me a little bit about yourself? Who are you and what do you do?
Andrew Olszewski: Well, My name is Andrew Olszewski and I am a filmmaker! I specialize in video editing and producing. I recently graduated from DePaul University, in Chicago Illinois with a BFA in Film and Television with a concentration in editing.
SKSM: In addition to playing a role in this film you were the producer and the editor. What was more difficult to do?
Andrew Olszewski: The hardest part in my opinion is producing. That involves so much planning and communication that it can be overwhelming if you don't plan every single aspect of the film. Editing is almost second nature to me, so I would say producing and the pre- production was the most difficult part of the film.
SKSM: When did you know you wanted to become an actor?
Andrew Olszewski: My acting role in this film was pretty minimal (I was a thug throwing some kicks at the beginning) but I have been acting in other films and shows for a while now. I always just thought acting was fun, and over the past year I have taken it a little more seriously.
SKSM: How did you become involved in Popsy Dollar Baby film?
Andrew Olszewski: My buddy Max (director) and I had been wanting to make a larger scale film for a while now and he came across this program. We thought it was a no brainer to see what we could do with this opportunity!
SKSM: What do you think it is about the story that attracts people so much?
Andrew Olszewski: I think the weirdness of it all is what attracts people. Stephen King has a way of making an audience become engaged from the very beginning. Also, because it is Stephen King, a viewer already knows that there is going to be a weird twist at the end!
SKSM: Did you have to audition for the part or was it written directly for you?
Andrew Olszewski: I sort of fell into the small part I had. Instead of making it a huge deal and casting a thug, we decided I could fill the part easily enough.
SKSM: You worked with Max Richter on this film, how was that?
Andrew Olszewski: Max and I have been great friends since the beginning of college. We have a great friendship and work very well together. We have made many films together and so far and this was the biggest production to date. He is a great director and knows how to capture the moment of each and every scene.
SKSM: Was there any funny or special moment when they made the movie that you would like to tell me about?
Andrew Olszewski: Well, every production has its funny moments, I think the behind the scenes video captures some of that, but overall the entire production was a great experience.
SKSM: Do you still have any contact with the crew/cast from that time? If so with who?
Andrew Olszewski: Most everyone involved I still have at least some contact with. Whether that be simply friends on facebook or friends in real life. Noah Sliwa was actually an old buddy from Michigan that made the trip to Chicago to film and help out on set, so that was pretty cool!
SKSM: What are you working on nowadays?
Andrew Olszewski: Max and I are currently in post production on another film. It is called "Eyes Only For You" and explores some pretty heavy topics. We are really excited to finish the film and send it out to some film festivals, and hopefully leave an impact on viewers.
SKSM: Are you a fan of Stephen King's work?
Andrew Olszewski: I would say it is hard to not be a fan! He has an amazing way to craft a story and keep a viewer on their toes. I think everyone can learn something after reading/watching a story Stephen King has made.
SKSM: What is one thing people would be surprised to know about you?
Andrew Olszewski: I love sports! Though I sit behind a computer most my days I make sure to stay active and shoot hoops when I can. Also, I have a youtube channel with almost 10 million views!
SKSM: Thanks for taking the time to answer my questions. Is there anything you want to say to the fans that read this interview?
Andrew Olszewski: Thanks for all of the support! It means a whole lot to me and everyone involved in this production!