Justin Harreman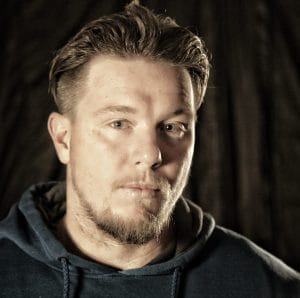 He played in Ben Woods' Rest Stop as The Driver.
SKSM: Could you start with telling me a little bit about yourself? Who are you and what do you do?
Justin Harreman: I'm an actor here in Australia, but my teaching work is what pays the bills. I teach Drama and Film and TV. I like to play guitar and golf when my kids aren't jumping all over me. However, as of late, I have begun my own production Company 'AuMa Films' – look for us! We start shooting our first full-length feature film in December 'Catching Noonan' be sure to look out for that when it gets released!
SKSM: When did you know you wanted to become an actor?
Justin Harreman: I grew up watching my parents perform on stage and loved performing everytime I did it for drama club or school plays…and then eventually in film later in life.
SKSM: How did you become involved in Rest Stop Dollar Baby film?
Justin Harreman: I had worked with the director on a previous film and he asked me if I could do his next project. I immediately said yes.
SKSM: What do you think it is about the story that attracts people so much?
Justin Harreman: I think the tension that is built within a short space of time is what attracts people to engage into the storyline. King does this well with most of his narratives.
SKSM: Did you have to audition for the part or was it written directly for you?
Justin Harreman: I auditioned somewhat, it wasn't an oficial audition, I basically caught up with Ben and discussed the role…he got me to read a few lines on the university campus. I think because I had worked with Ben before, he knew what I could do.
SKSM: You worked with Ben Woods on this film, how was that?
Justin Harreman: Great, at the time I was only really known for theatre acting performances, so it was Ben that help kickstart my film acting career. It was great of him to select me because it was evident there were certain actors that the university lecturers/tutors liked for the students to choose for their 3rd year films… but Ben was adament to get me onboard, I feel going against advice and trusting his own judgement.
SKSM: Was there any funny or special moment when they made the movie that you would like to tell me about?
Justin Harreman: I think the special moment for me was playing the lead in a film that was written by Stephen King. That's not to say I'm a huge fan…the genre is too intense for me, but my wife is…and that impressed her (we weren't married at the time)…it may have helped get me impress her to continue dating me…maybe I should ask her?
SKSM: Do you still have any contact with the crew/cast from that time? If so with who?
Justin Harreman: Through social media, yes – but not as often as we should…they are great people. Everyone has moved onto different places within Australia too, so it makes it hard to catch up.
SKSM: What are you working on nowadays?
Justin Harreman: As mentioned, I have written a film called Catching Noonan, it has taken up most of my time lately – so excited to start shooting
SKSM: Are you a fan of Stephen King's work?
Justin Harreman: Truthfully, I'm not, it is isn't my preferred genre. I like Bernard Cornwall and other medieval type stories.
SKSM: What is one thing people would be surprised to know about you?
Justin Harreman: I love the arts but I also love my sport… I'm a fanatic – the two worlds of connected social groups don't mix all that well.
SKSM: Thanks for taking the time to answer my questions. Is there anything you want to say to the fans that read this interview?
Justin Harreman: No, thanks for the interview, so sorry it has taken so long to get back to you – very busy guy. Also, big thanks to all the Stephen King fans out there, without you and the popularity of King's work, I wouldn't have had the chance to play such an exciting role.