Daryle Moore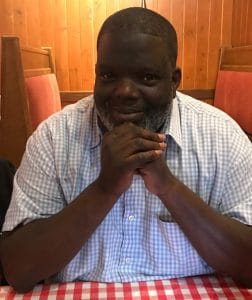 He is the man behind Mute Dollar Baby Film.
SKSM: Could you start with telling me a little bit about yourself? Who are you and what do you do?
Daryle Moore: My name is Daryle Moore and I've been in the film business since 2009. I'm a writer, producer and director. I've worked on 27 projects in different capacity including 6 as an actor.
SKSM: When did you know you wanted to become a filmmaker?
Daryle Moore: It wasn't until my friend, Robert Williams, showed me a screenplay he wrote. I think I made a comment like that looks easy. He challenge me to write one. So I did. Through some Godly intervention, I worked on set of Plastic and I knew then that making movies it what I wanted to do.
SKSM: When did you make Mute? Can you tell me a little about the production? How much did it cost? How long did it take to film it?
Daryle Moore: We finished principle photography in 2016. The production was fantastic. I had a great 1st A.D, Rebecca Lunn, who put together an amazing crew. We also had some very talented actors. It was probably one of the productions I've worked on. Not because it was mine rather how well and efficient everyone worked. This was a team effort and everyone went above and beyond to make Mute great. We filmed over the course of 8 days in various locations with a budget of $10,000.
SKSM: How come you picked Mute to develop into a movie? What is it in the story that you like so much?
Daryle Moore: I thought Mute gave me enough room to interpret the story my way while trying to stay as close to the story as possible; meaning big twist and lots of turns. Keeps you guessing . What I like the most about the story is it's simplicity.
SKSM: How did you find out that King sold the movie rights to some of his stories for just $1? Was it just a wild guess or did you know it before you sent him the check?
Daryle Moore: My producing partner, John Norton, told me about after he got rights to one of Stephen King's stories. I never heard of dollar Babies before that.
SKSM: Was there any funny or special moment when you made the movie that you would like to tell me about?
Daryle Moore: We were filming the driving scenes and it was freezing outside. Our DP and cam op were riding in the back of a truck wrapped in blankets. We kept driving around after we cut to see how long it would take them to start yelling. It was hilarious. Well to us who were warm.
There were many special moments during filming. Most of the cast and crew all stayed at my house we were filming so there were some great bonds formed.
SKSM: How does it feel that all the King fans out there can't see your movie? Do you think that will change in the future? Maybe a internet/dvd release would be possible?
Daryle Moore: I understand why Stephen King doesn't want these films released for profit, however, I it's unfortunate that the general public won't be able to see these films. I don't see these films being made public in the future. He doesn't want people profiting off his name. It would be nice if he started a channel for Dollar Babies where the public could view them.
SKSM: What "good or bad" reviews have you received on your film?
Daryle Moore: We honestly haven't received any bad reviews for Mute. They all have been very positive.
SKSM: Do you plan to screen the movie at a particular festival?
Daryle Moore: We are planning on submitting to several festivals. One in particular is the Chicago International Film Festival.
SKSM: Are you a Stephen King fan? If so, which are your favorite works and adaptations?
Daryle Moore: Yes I am a fan. He has so many films based off his books. One of my favorites Firestater. A childhood neighbor, Moses Gunn, is in it. Also, Stand by Me, The Shawshank Redemption, The Green Mile; I can go on and on. So many classics. Misery, The Shining; let me stop.
SKSM: Did you have any personal contact with King during the making of the movie? Has he seen it (and if so, what did he think about it)?
Daryle Moore: Outside of getting a couple emails from is manager, we had no contact at all.
SKSM: Do you have any plans for making more movies based on Stephen King's stories? If you could pick -at least- one story to shoot, which one would it be and why?
Daryle Moore: I have no plans on making another movie based on his stories. It was great making Mute but it's doubtful I will be making anymore short films.
SKSM: What are you working on nowadays?
Daryle Moore: I'm currently director Scar Lake. It's a thriller feature film with Harold Dennis who also is in Mute. I'm also writing a faith based script and a psychological crime drama called States of Mind.
SKSM: What one thing people would be surprised to know about you?
Daryle Moore: That I'm a very good cook and hope to one day open a restaurant.
SKSM: Thanks for taking the time to answer my questions. Is there anything you want to say to the fans that read this interview?
Daryle Moore: Thank you for interviewing me. It has been a pleasure. To the fans, I hope you enjoy Mute and visit us on FaceBook and leave a comment about the film.