Cameron Schwartz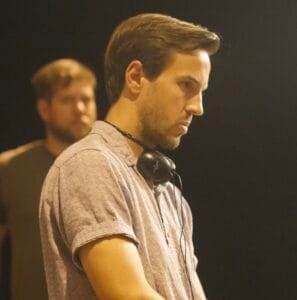 He is the filmmaker of Rest Stop Dollar Baby film.
SKSM: Could you start with telling me a little bit about yourself? Who are you and what do you do?
Cameron Schwartz: My name's Cameron Schwartz. I live in Atlanta, GA. I've been working in the film industry for 13 years, first starting in Los Angeles in 2009, before moving back to Atlanta in 2011. I'm a camera assistant (2nd AC) and have been doing camera for 10 years now.
SKSM: When did you know you wanted to become a filmmaker?
Cameron Schwartz: I think for most filmmakers, their love of movies starts at a young age. And the same goes for me. When I was about 4 or 5, I was obsessed with Rob Reiner's "Princess Bride." I would watch it any chance I got. And that goes for the Indiana Jones Trilogy, which I owned on VHS.
Also, I was lucky enough to see Steven Spielberg's "Jurassic Park" when it first premiered in theaters in 1993. For me, I loved the escapism that those movies provided me.
SKSM: When did you make Rest Stop? Can you tell me a little about the production? How much did it cost? How long did it take to film it?
Cameron Schwartz: We filmed Rest Stop. July, 2018. We shot at a private school near Chastain Park in Georgia. The actual Rest Area was found by my exceptional Locations Manager Melanie Antos. It was located in Covington, GA.
We originally were slated to complete all of our scenes at the rest area over one night. In hindsight, this was overly optimistic. We had a strict 12 hour limit at the rest area. And given the amount of shots and sequences needed there, including all the establishing shots with the technocrane and the interiors with the aftermath, we made the decision to come back for one more day.
I can't remember the exact amount, but the film cost around $60,000 to make.
Principal photography lasted five days and then, about a week or two later we came back to the school for some pick-up shots.
SKSM: How come you picked Rest Stop to develop into a movie? What is it in the story that you like so much?
Cameron Schwartz: I actually picked three dollar babies by Stephen King, but Rest Stop was the one that I felt I could realistically film. I loved the idea that this everyday person could overcome his fear and finally stand up to something. But, with any adaptation from book to screen, you have to flesh out certain parts of the story. And for me, I needed to build a more complete backstory for our character "John Dykstra." Which is why I added all the scenes with the Dean of the College and John's competitor "Roger Billings" for the Chair of the Department. In addition to that, I wanted to create a little more conflict for the character of "John Dykstra" along the way so his anger is always building and reaching this boiling point, so when he does flick the switch and become Rick Hardin, it feels warranted.
And I think one of the biggest draws for me in this story is this concept of standing up to bullies. Now, what John Dykstra does in the film takes it a little too far, but, that's the fictional aspect of it.
SKSM: How did you find out that King sold the movie rights to some of his stories for just $1? Was it just a wild guess or did you know it before you sent him the check?
Cameron Schwartz: Well, I had finished filming a short film in 2016 and by 2018, I was searching for ideas for my next one. I had succumbed to writer's block and was becoming quite frustrated. My girlfriend at the time suggested I look into Stephen King's Dollar Babies. I had never heard of them before. But as I found his site and read through the stories, my enthusiasm was reinstated. And on top of all of that, the fact that I only had to pay $1 for the rights for a year was something I couldn't pass on.
SKSM: Was there any funny or special moment when you made the movie that you would like to tell me about?
Cameron Schwartz: I would have to say the most special moment was celebrating my birthday on one of our shooting days. We were at the school filming the Dean scenes. My dad was there, in costume, doing background crosses for the hallway shots. At lunch, unbeknownst to me, my parents had bought a cake and made a very heartfelt speech to the cast and crew talking about how special it was for them and me to be spending my birthday doing what I truly loved.
It was quite memorable.
SKSM: What "good or bad" reviews have you received on your film?
Cameron Schwartz: I haven't received any bad reviews luckily. One YouTuber did say they were a little disappointed in the change in dialogue at the Rest Stop, but overall thought the film was fun.
I'm sure whoever watches my film will have their own criticisms for how I adapted King's story. But I think that just comes with the territory of adapting books to film. At the end of the day, as a filmmaker, you just have to stick to your guns and tell the story the way you'd want it told.
SKSM: Do you plan to screen the movie at a particular festival?
Cameron Schwartz: The film has made the rounds at smaller festivals and has won various awards.
SKSM: Are you a Stephen King fan? If so, which are your favorite works and adaptations?
Cameron Schwartz: I know fans will probably hate this, but I'm not a huge King fan. I think I probably saw his movie adaptations before I even discovered his novels. But, I will say, as I grew older, I began reading more of his work, and I enjoyed it very much. I mean, he's a master, no doubt about it. And I'm lucky enough to have been given the chance to adapt one of his stories.
SKSM: Did you have any personal contact with King during the making of the movie? Has he seen it (and if so, what did he think about it)?
Cameron Schwartz: I unfortunately never had any real contact with the master himself. I'm not sure if he's seen it or not. I really hope he has and I would jump at the opportunity to speak with him and get his thoughts on the film.
SKSM: Do you have any plans for making more movies based on Stephen King's stories? If you could pick -at least- one story to shoot, which one would it be and why?
Cameron Schwartz: As of now, I don't have any plans to shoot any more stories by Stephen King. But, I know there are a lot of adaptations coming our way very soon, and I'm extremely excited about that!
If I had to pick a story to shoot, I would say King's "Finders Keepers" is an intriguing one. It's similar in some ways to "Rest Stop" and in others it shares similarities with "Misery," which is a great novel and an exceptional film.
SKSM: What are you working on nowadays?
Cameron Schwartz: I just finished camera assisting on the fourth season of an HBO comic book series called "Doom Patrol."
And I am currently writing the script for my next short. I don't want to give too much away, but I will be trying my hand at horror and this one is a full on creature feature.
SKSM: What's one thing people would be surprised to know about you?
Cameron Schwartz: Well, if viewers of my films pay close attention to my main credits, they will notice that I compose the scores for my films. Starting with my short "The Formula" and continuing to the present, I have written and composed the score to every one of my projects.
Music to me is just as important as the visual, and I'm lucky enough to be able to write the music the way I hear it. Again, looking back on my childhood experiences with movies, the biggest influence is the collaboration between Stephen Spielberg and John Williams. So, my music is always influenced by what John Williams has done for the films of Spielberg and George Lucas for that matter.
SKSM: Thanks for taking the time to answer my questions. Is there anything you want to say to the fans that read this interview?
Cameron Schwartz: Well, in Rest Stop, there are Stephen King easter eggs hidden throughout the film. One is the library where our main character has his group meetup. Also, I would suggest listening closely to the radio broadcast that John Dykstra listens to in his car. It may provide clues to another King story.
SKSM: Would you like to add anything else?
Cameron Schwartz: I would just like to say, thank you Oscar for reaching out to me. I think what you're doing is great and shedding more light on Stephen King's Dollar Babies is a great thing. I hope more aspiring filmmakers will take advantage of what King is offering because it's a very rare thing to find in Hollywood.