Hareth Tayem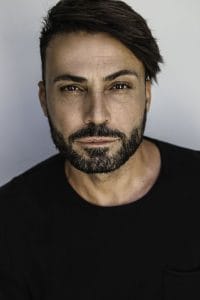 He played in Mark Zimmerman's Dollar Baby Rest Stop as Lee.
SKSM: Could you start with telling me a little bit about yourself? Who are you and what do you do?
Hareth Tayem: Hi, My name is Hareth Tayem. I'm an Actor and all round creative. I'm Australian born and raised. My parents are originally from Syria. I grew up wanting to be an actor but cultural & religious ideals projected on me growing up made my dream career riddled with "obstacles". I credit my challenging childhood to the layered and emotionally determined person i am today which in turn has provided me tools as an actor. I'm world traveled and always looking to expand my own mind and keep evolving as a kind and loving human.
SKSM: When did you know you wanted to become an actor?
Hareth Tayem: I "accidentally" watched Stephen King's Original Pet Sematary as a 10-11 year old and was introduced to the concept of being a "child" actor and realised that i could start dreaming about what I wanted to do while I was at school instead of having to wait until I had finished school and grown up. The film single handedly made me realise that you could work before you became an adult. I was obsessed with the child character – regardless on how gruesome and tragic the character becomes, I was in. At the time, I was so impressed that this child actors parents allowed him to do it – and for that I thought they were the coolest parents in the world and wished my parents would have been like them.
SKSM: How did you become involved in Rest Stop Dollar Baby film?
Hareth Tayem: I had the privilege of working with Mark on a short film over 15 years ago and thought he power of social media he came across my recent post updating the world with my showreel and he contacted me to see if I would be interested in reading the script and choosing from 2 characters. I wanted to be the "horror" that Stephen King colourfully illustrates in each of his stories.
SKSM: What do you think it is about the story that attracts people so much?
Hareth Tayem: Rest Stop asks the moral question "Hear something ? Do something?" when encountering a domestic disturbance. The story gets you to empathise and relate with the main character who questions the social responsibility we have in getting ourselves involved in someone else's dispute / disturbance. However, in true Stephen King style, nothing is as it appears.
SKSM: Did you have to audition for the part or was it written directly for you?
Hareth Tayem: The character of Lee was already written but hadn't been cast. Mark Zimmerman (the director) had me in mind for one of 2 characters that were available and without hesitation i gravitated to the "sinister and dark" character that Lee was expected to deliver. As an actor, this is what I signed up for, a character that could not be further away from who I am as a person. I loved exploring and bringing Lee to life.
SKSM: You worked with Mark Zimmerman on this film, how was that?
Hareth Tayem: Mark Zimmerman is a very unique director. Mark doesn't fit the stereotype of directors I had come to know. Mark is gentle yet confident, negotiable yet a visionary and a creative encouraging everyone including the crew to shine in their own light. I have respect for those who find it important to have a positive experience.
SKSM: Was there any funny or special moment when they made the movie that you would like to tell me about?
Hareth Tayem: It was more of a "mind blown / surreal" moment… We filmed in a public location. An actual remote public Rest Stop on the side of a highway, hours out of Sydney City. We filmed late at night so truck drivers would find themselves naturally taking a pit stop. Every now and then a truck driver would pull up while my character Lee fights and yells at Ellen. I was surprised and disappointed that NO truck driver decided to intervene. Our cameras were not in sight for the truck drivers to see, so as far as they were concerned, this could have been real and yet not one passerby intervened. This only fuelled the storyline we were acting out and made us realise that this "fictional" storyline was blurring into "Non fiction".
On a lighter / funnier note, Ellen spits on Lee's face in one of the scenes and of course that was not done in one take. My "safety" was knowing that my character wears glasses so I had that protection. However, Sontaan (who plays Ellen) found the unintentional ability to angle under my glasses and get my actual eye. I'm happy to say I'm healthy and doing fine.
SKSM: Do you still have any contact with the crew/cast from that time? If so with who?
Hareth Tayem: Yes, I have created a new and heartfelt connection with my co star Sontaan (who plays Ellen) and have been each others loving support via messages. Brad (who plays John) has been a friend for many years throughout the industry and I'm happy knowing I introduced Brad to Mark Zimmerman for that role.
SKSM: What are you working on nowadays?
Hareth Tayem: I am currently in the middle of hearing back from a few auditions. From a drama tv series in Australia to a Horror Feature film shooting in Europe in May. I'm also in the process of updating my reel with some of my latest work that has just come out from Playing an 1100 year old Vampire to playing a Dark Lord in Hell. Having said that, I've noticed a bit of a theme… Darkness. And I like it.
SKSM: Are you a fan of Stephen King's work?
Hareth Tayem: A fan? That would be an understatement. He is responsible for planting the acting bug in my thoughts, I enjoy my heart skipping a beat and gripping my couch with suspense every time I watch or read any of his work. To be part of it and finding that level of performance to let the audience feel that "Stephen King" feeling is a dream come true.
SKSM: What is one thing people would be surprised to know about you?
Hareth Tayem: I'm a happy guy, who's never physically fought with anyone. I'm an optimist and a "conspiracy theorist". I grew up learning about Paranormal Activity, UFO's, Ghosts, Spirits and the vast concept of our universe. My late dad was all read up and obsessed with Space and everything it came with. This seems to have been passed onto me successfully and welcomingly.
SKSM: Thanks for taking the time to answer my questions. Is there anything you want to say to the fans that read this interview?
Hareth Tayem: I'm excited and so impressed at the opportunity that Stephen King grants permission to students and aspiring filmmakers or theatre producers to adapt one of his short stories for $1. This has not only allowed me, as an actor to be part of a personal dream, but also Directors like Mark Zimmerman and other talented crew to get the rights to a Stephen King short and deliver and certain expected standard. You don't have to be in Hollywood to be part of something global. I'm even thinking about personally looking for one and making it my passion project… anyone can also. Showing up to set at night, freezing in the middle of nowhere takes passion, ambition and determination. This is something you should at least have before committing to any projects out of respect for the cast and crew who all show up regardless of conditions. I look forward to working with this cast and crew in the future.
SKSM: Do you like to add anything else?
Hareth Tayem:
Agent details and Socials:
Personal:
@harethtayem (Instagram)