Joseph Horning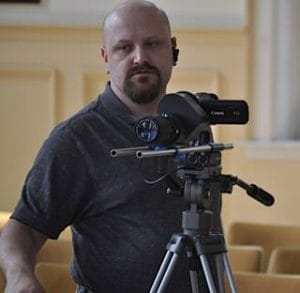 He is the man behind One For The Road Dollar Baby Film.
SKSM: Could you start with telling me a bit about yourself? Who are you and what do you do?
Joseph Horning: My name is Joseph Horning and I am an independent filmmaker from Norristown, Pennsylvania, a small town about twenty miles north of Philadelphia. I primarily write screenplays and collaborate with other filmmakers on their scripts and productions, however I do occasionally like to jump out from behind the computer and produce my own work. I'm the owner of Quarterly Entertainment, LLC, and co-owner of CKC Quarterly Productions; a joint venture I run with my business partner Curtis K Case.
SKSM: Could you tell our readers the status of One for the Road or some updates?
Joseph Horning: As of this writing we have one day left for pick up shots. It's an odd time to be shooting scenes for a story that's set in the middle of winter during the spring but there were a lot of things that sprung up during the production and immediately after principal photography that caused some delays. One thing that set us back in completing the film when we had hoped was a surprise snowstorm on our third day of production. Because of continuity we had to rework a few things in our schedule and then hope for the best that another storm would come in to help with the scenes. It was actually kind of perfect at the time because we had just finished all of the interior shots and the snow happened just as we were about to film the exteriors. Since the story of One for the Road takes place in the middle of winter and during a snowstorm, it was apropos.
As time went on our actors had other commitments so we had to accommodate their schedules. Also, while in editing I noticed a few things that we needed to go back and rework for the scenes at Tookey's bar. So we redid those scenes and then I ended up buying a snow machine to give the illusion on camera that it's snowing. All in all, despite the delays, everything is looking great.
SKSM: How come you picked One for the Road to develop into a movie? What is it in the story that you like so much?
Joseph Horning: Well for one thing, it's a sequel to 'Salem's Lot, one of my favorite King novels. I loved how that book had a gothic feel to it and that carried over into the short story "One for the Road." There's something about the short story that exudes all of the traits of a great gothic horror tale – the characters are isolated from the rest of the world by being stuck in the middle of a snowstorm; there's a dark legend that only the local residents believe or know to be true until it's too late; and of course there are vampires!
I love the original 'Salem's Lot mini-series from 1979. I've also seen a number of other Dollar Baby films adapted from "One for the Road," and always thought it would be a neat spin on the story to make it a connecting sequel to that film. No other adaption has done that. So we're taking our version of One for the Road and placing it within the universe of the Hooper adaption by featuring one or two characters from that mini-series that are still kicking around The Lot after nearly 40 years as vampires. It will be interesting to see if the fans will pick up on who they are.
SKSM: It is One for the road your debut as a director?
Joseph Horning: No, this is the third short film I've worked on as a director and definitely the largest production so far. My first short film was a psychological thriller I wrote, called Masterpiece, about a desperate woman and eccentric artist. The second film I directed was for a proposed webseries that my friend and assistant director, Gus Garfield, and I developed, called Forest of Darkness. The pilot episode was called "The Field Across the Way", and was based off of an old Scandinavian myth about the forerunner of death.
Besides writing and directing my own films, I've also collaborated on screenplays with other filmmakers from the Philadelphia area. I mainly stick to horror, though I've co-written two suspense thrillers with my friend Andrey Nikiforov, who is in the middle of directing a feature film based on one of those screenplays. My business partner Curtis K Case and I wrote the feature length screenplay Where is My Golden Arm, based off of an old traditional jump scare story made famous by Mark Twain. It's made the rounds in a few festivals and was a semi-finalist in several of them. We plan on shooting a short film version next year; once we're finished with One for the Road, in the hopes that we can attract investors to shoot the feature.
SKSM: You have an incredible cast and crew involved in this project. How did you convince them to play in One for the Road?
Joseph Horning: There really wasn't anything I had to do to convince them to be in the film. We held an audition process and a vast majority of the actors who submitted for the film were already fans of Stephen King, or have always wanted to be part of one of his productions. Many of them actually read the story before coming in to audition for us, and their enthusiasm for the film radiated in their performances. My lead actress playing Janey Lumley, Sandy Lawler, is a Stephen King fan. One year for Halloween, she and her twin sister dressed up like the Grady twins from The Shining, complete with blood and an axe! She just can't wait to be covered in blood and become a vampire in the un-official Stephen King universe!
I'm extremely happy with the cast we put together for this film and I can't wait to see all of these characters come to life on screen!
SKSM: How did you find out that King sold the movie rights to some of his stories for just $1? Was it just a wild guess or did you know it before you sent him the check?
Joseph Horning: I've known about his Dollar Baby films for quite some time. I first learned about them in the early 2000's, before heading back to college to study film and video production. I was kicking around Stephen King's website trying to get the scoop on anything new that he was working on, when I stumbled across the page listing the stories he had up for purchase. At the time I knew I wouldn't have time to find a suitable story to work on and adapt into a film before heading off to school, so I just kept the idea in my back pocket until a later date. Later turned out to be much later, as I began working on and developing other projects with friends I've met along the way, and the thought of the Dollar Babies kept getting pushed off. So now it's nearly seventeen years later and I'm finally getting around to fulfilling my dream of making a movie for Stephen King. In a way I'm glad I waited, because I don't think I would've had the help or resources I have now, had I jumped into it sooner than I did. The connections and friends I've made over the years have become some of my most valuable assets, and I'm grateful to everyone working on this film with me to bring it to life.
SKSM: How does it feel that all the King fans out there won't see your movie? Do you think that will change in the future? Maybe an internet/dvd release would be possible?
Joseph Horning: It's a little disheartening knowing that only a select few people will get the chance to view the film upon completion, but that's just the way the dice roll. Hopefully our film will be well received by Stephen King and he'll grant us permission to debut it to a wider audience. It's been done before with other Dollar Baby films. As of right now, only the cast, crew and crowdfunding backers will get the chance to view the film in a private screening/link that will be available online with a private pass code.
SKSM: I guess it's very soon to asking this question but… where the premiere will be? Do you plan to screen the movie at a particular festival?
Joseph Horning: Well since we're getting close to wrapping up production, my executive producers Chris Wagler, Scott Surochak and I have been discussing where we would like to hold our films' premiere. There are three places we have in mind. The first is the Grand Theater; located in East Greenville, PA, where the majority of One for the Road will be filmed. It's a small theater that has been renovated to look like the old movie houses from the 1950's. There's an old organ in front of the screen and balcony seating for a small group of people.
The second location we have discussed is the Colonial Theater in Phoenixville, PA. Anyone who is a movie buff or fan of old B-rated horror films will recognize the Colonial Theater from the original Steve McQueen version of The Blob! The film was shot locally back in the 1950's, and the Colonial Theater was the setting for one of the movies' iconic scenes, where the Blob attacks thralls of teenager in the theater. The teenagers proceed to stampede out into the street as the Blob seeps through the vents and doors after them! Every year the town holds Blobfest, where visitors return to the Colonial Theater to watch old B-rated horror films and re-enact that famous scene! I think it would be amazing to debut our film during Blobfest or very near it!
Lastly, we've discussed a possible showing in Philadelphia, at the Prince Theater, where many films, plays and celebrities have made appearance over the years. David Lynch; who attended the Pennsylvania Academy of Fine Arts in Philadelphia, has returned to the Prince to showcase his movies and discuss his career. I believe The Sixth Sense, Rocky Balboa and Creed held their premieres there; along with countless other Hollywood films over the last century, so it would be a great venue to debut our film in.
If given the okay by Stephen King to distribute the film to a wide audience, we would love to put it into the Tribeca Film Festival or even Sundance.
SKSM: Are you a Stephen King fan? If so, which are your favorite works and adaptations?
Joseph Horning: I'm a huge Stephen King fan! I wasn't so much when I was younger. It took me until my teens to actually get into his work, and the first of his novels that I ever completed was Cujo. I had attempted to read IT when the mini-series was announced, but I found it too much of a challenge for me; especially since I was only 12 at the time and not into reading like I am now. A 1,000 plus page book is pretty daunting for someone just discovering an author; an author that would help to shape his ideas and imagination. It wasn't until after I watched the mini-series that I fell in love with that book, and I have now read it at least a dozen times!
IT is clearly my favorite novel by King, though I'm not on board with the remake. The characters felt forced together, while Richie was too vulgar and not like the character in the novel. I prefer the original mini-series from 1990 with Tim Curry. Yeah, it's cheesy at times and the effects aren't the best, but I find it fits the original story better than the remake. I also love Misery. There is nothing wrong with that adaption; Kathy Bates is phenomenal in that role! And of course 'Salem's Lot! Again, the original mini-series is my favorite. I know fans have issues with Reggie Nalder's performance as Barlow, and they take issue that it doesn't follow the book closely enough, but I find it to be a worthy adaption.
SKSM: Do you have any plans for making more movies based on Stephen King's stories in the future? If you could pick -at least- one story to shoot, which one would it be and why?
Joseph Horning: I would love to work on another Stephen King film if given the chance. There are so many great stories out there that it's hard to pick just one, but if I had to, I'd say "Bad Little Kid", out of The Bazaar of Bad Dreams. I love how this unknown child just randomly appears throughout this man's life to taunt and torture him, until he is forced to take drastic measures to save the people around him. The ending actually gave me chills.
SKSM: Are you working on another project besides this one?
Joseph Horning: Not at the moment. My business partner; Curtis K Case and I recently wrapped up production on the first season of our comedy-drama webseries called Siblings the Series. The entire first season is available for viewing on our YouTube channel https://www.youtube.com/c/ckcquarterlyproductions. Once things are wrapped up with One for the Road, we'll be sitting down to hammer out plans for the second season, as well as develop the short film for Where is My Golden Arm.
SKSM: What is one thing people would be surprised to know about you?
Joseph Horning: Probably the biggest surprise is that I'm a self-published writer and illustrator of a children's book called The Christmas Mouse. I know, the guy who loves horror films and Stephen King wrote a children's book? I promise that it's a cute story that teaches a lesson in the end! No one dies… Or do they? Dun dun dun!
I'm working on a second children's book centered on the same mouse in the first story. It's written, I just need to find the time to work on the art for the book.
I also dabble in writing film scores from time to time. So far I've written two scores for short projects and have worked on a few solo pieces.
SKSM: What advice would you give to those people who want to be filmmakers?
Joseph Horning: Keep pursuing your passion. There are going to be people out there who criticize and demoralize, but you have to ignore the detractors, and listen to your heart and follow your dreams. Like the old saying goes "you can't please everyone, so you gotta please yourself." Make art that you can be proud of not matter what the subject or the story is that you're trying to tell. And don't worry if you're just starting out and don't have the best of everything. Some of the best films are made on the smallest budgets, with the cheapest equipment. It's all about the passion you put into every shot and every scene that matters. Except for audio. NEVER skimp on the audio!!
SKSM: Thanks for taking the time to answer my questions. Is there anything you want to say to your fans?
Joseph Horning: Fans? I have fans??
SKSM: Would you like to add something?
Joseph Horning: I just wanted to thank you and everyone out there who has helped support this project from the beginning! Without their contributions – either from crowdfunding donations or the people on my team who have donated their time – I wouldn't be where I am right now in this stage of development! You guys rock! Thank you!