Keith Eyles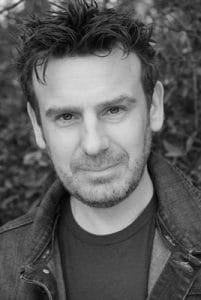 He played in Brian Haynes's Dollar Baby Popsy as Sheridan.
SKSM: Could you start with telling me a bit about yourself? Who are you and what do you do?
Keith Eyles: My name is Keith Eyles; I am a British Actor and Film Maker. I currently live in London, England but lived in the United States between 1995 and 1999 where I studied theatre, film production and acting. I have always loved storytelling and have been passionate about movies and television drama since I was a kid. I am currently single and am also interested in travelling.
SKSM: How did you become involved in Popsy?
Keith Eyles: I became involved with Popsy when Brian Haynes saw my show reel. Brian and I went to film school in Florida in 1997 and were classmates. I produced Brian's first short film in 1998 called "The Wheelchair People". I remember Brian telling me back then that he was trying to get the rights for a Stephen King short story and I never imagined that 6 years later I would be playing the lead role in it. I left the US at the end of 1999 and eventually Brian and I lost contact for a while. At the end of 2004 I sent my show reel to my old film school teacher, Ralph Clemente and Brian just happened to be in Ralph's office pitching "Popsy" when the show reel landed on Ralph's desk.
SKSM: Did you have to audition for the part or was it written directly for you?
Keith Eyles: The part was certainly not written for me, Brian had finished his screenplay based on Stephen King's short story long before I was involved in the project. Although when Brian first contacted me regarding the role I was delighted, I was also a little concerned that Brian had only offered it because we were friends at school. I wanted to make sure that I was right for the role so I read the short story and called Brian with my concerns. My first question to Brian was "why did he see me in the role and did I have to play it with an American accent?". I was amazed, Brian came out with this whole back-story of the Sheridan character that he'd devised where Sheridan had come across from England because he had got in trouble in England with the gambling underworld and how being English and having a British accent would work better and make it more believable in talking to the kid etc. At this point I realised that Brian had actually thought about it and did believe that I was right for his vision of the story told in a contemporary setting. I would have obviously done the American accent if Brian had wanted it because the character was clearly American in the book, but Brian wanted his Briggs Sheridan to be English and look like me.
SKSM: You worked with Brian Haynes on this film, how was that?
Keith Eyles: It was great to work with Brian, as I've already said he and I were friends at film school and I hadn't seen him for 6 years. Brian is also a huge movie fan and he and I would talk about films for hours at a time, it was as if the years hadn't passed. For me it was an amazing time of reunion as many of the crew were also friends that I had studied with years before so I had a wonderful time both on and off set.
SKSM: Was there any funny or special moment when they made the movie that you would like to tell me about?
Keith Eyles: The whole experience was one of the best times of my life so far. I got to work with so many friends who I respected and had missed over the years as well as meeting some interesting new people, so it was all very special. I think that the funniest moment was on the last night, we were filming the scene were Popsy had just cut Sheridan's throat and the kid was drinking the blood from it. The effect involved a prosthetic neck piece with a hidden tube connected to a pump filled with fake blood. Because of the pressure in the pump my neck continued to "bleed" for about 2 minutes after Brian had yelled "cut" so I was there with a crew of 50 people laughing as blood continued to gush from my neck. I tried to be amusing and make a joke about this ridiculous situation, I think that they actually continued rolling so it may be included as an outtake one day?
SKSM: Do you still have any contact with the crew/cast from that time? If so with who?
Keith Eyles: Yes, I've tried to keep in touch with as many of them as possible but of course it's difficult with the distance and time zones etc plus everyone is very busy. I still have contact with Brian of course, also Dave Conley who produced the film, my old teacher and friend Ralph Clemente, James Cheshire who plays Mr. Meriwether in the film, Mayleen Vega who was the costume designer and Rodrigo Bermudez who composed the music and used to be my room mate.
SKSM: What did you do after Popsy?
Keith Eyles: I came back to England and continued to work. Later that same year I was part of an ensemble cast in the horror feature "Bloodmyth". The following year I acted in 2 feature films "Bad Day" and "Ten Dead Men" (both of which are at Cannes this year) and last year I was the lead in a thriller called the "Counterfeit Butterfly" and made my own short film called "Crossed Lines" which is currently doing the festival circuit. I am planning on making another short this year called "Reversal" and I'm currently writing a feature film entitled "Copy".
For more info visit www.keitheyles.com , www.baddaythemovie.co.uk , www.tendeadmen.co.uk , www.counterfeitbutterfly.com , www.bloodmyth.com , Trailer – Crossed Lines
SKSM: Is there some part(s) in the film where you now say "I wish that I have done this different"?
Keith Eyles: Although I love the whole process of making films, I never truly enjoy watching myself as I always see things that I think that I could have done better. I think as with any film (and I'm sure Brian would agree) if we had more time during the shoot some parts could have been better. Many of the scenes in the film we did in one take as we had simply run out of time to do more. I know Brian would have liked more time to film the final scene but I'll let you be the judge of whether it works.
SKSM: What are you thinking of the end result of the film?
Keith Eyles: I think that the film turned out great. Brian had a vision and style that he has definitely captured on the finished product. When I was doing research on the film, Brian asked me to watch Stephen King's "Cats Eye", a film made in the 80's. In that film there is a story starring James Woods and Brian wanted the film to have a similar look and feel to that which is very different to how films are made today. I believe he achieved that. If I had to be critical about "Popsy" I would say that it's a little too long and could do with some more of Rodrigo's wonderful score.
SKSM: Are you (or were you) a fan of Stephen King's work?
Keith Eyles: Yes, I have always admired his work although I haven't read everything he's ever written. I have seen most of the movie adaptations of his work and have always been a big fan of the horror/thriller genre.
SKSM: Thanks for taking the time to answer my questions. Is there anything else you want to say to the fans that read this interview?
Keith Eyles: Just a big thank you for all of your support of the film. Please continue to tell your friends about it and provide any feedback. Brian and I want to continue to make films and in this business you need all the publicity you can get.