Colin Paradine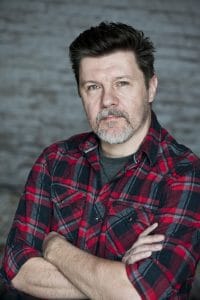 He played in Peter Szabo's Dollar Baby Love Never Dies as Officer LeBeau.
SKSM: Could you start with telling me a bit about yourself? Who are you and what do you do?
Colin Paradine: I am Colin Paradine and I am an actor, writer and producer based out of Toronto, Canada.
SKSM: How did you become involved in Love never dies Dollar Baby film?
Colin Paradine: I was approached by the director, Peter Szabo. We had previously worked together and he there was a part in this upcoming Stephen King short that he was directing that he was interested in having me play. As soon as I Heard Stephen King, I was in. I didn't even have to see the script.
SKSM: What do you think it is in the story that attracts people so much?
Colin Paradine: Like most of King's work, it has a completely relatable quality to it that appeals to a very wide audience and that has always been my draw to his work. He makes it very easy for his readers to slip into the worlds he creates and this one was no different. It had rich characters, the wonderful backdrop on Maine and King's trademark dialogue that is almost like a second nature to most, if not all readers of his work.
SKSM: Did you have to audition for the part or was it written directly for you?
Colin Paradine: No, I didn't have to audition, nor was the role specifically written for me. Peter just called me one day and asked if I would like to play a cop in a Stephen King short and I had to jump at the opportunity.
SKSM: You worked with Peter Szabo on this film, how was that?
Colin Paradine: It was great! I have worked with Peter both prior to and since Love Never Dies and in different capacities. I have worked with him as a director and as a producer and in both roles Peter has a certain cerebral way of running his sets. Everything is thought out, planned and at the ready. Sure, there is always some form of improvisation when things don't go according to plan, but he always has a way around those obstacles.
SKSM: Was there any funny or special moment when they made the movie that you would like to tell me about?
Colin Paradine: You'll have to forgive me on this one. It was quite a while back that we shot Love Never Dies and the night was a bit of a blur. I remember it being very cold and thinking at the time how lucky the other actors, Reese Eveneshen and Erin Stuart were to be sitting inside of a nice warm car for the whole scene.
SKSM: Do you still have any contact with the crew/cast from that time? If so with who?
Colin Paradine: Oh yes, I see most of them regularly. In fact Peter Szabo and I were in Reese Eveneshen and Erin Stuart's wedding this past summer.
SKSM: What are you working nowadays?
Colin Paradine: I have a sci/fi/action feature film coming out in the next couple of months that Peter Szabo produced and Reese Eveneshen wrote and directed and I also have a post-apocalyptic web series that I wrote and will direct that I am in the process of securing funding for.
SKSM: Are you a fan of Stephen King's work?
Colin Paradine: I am very much a fan of his work. I have been since I was old enough to read his books. While I have enjoyed his later work, the older stories are my favorites, specifically the Bachman Books. I love those short stories!
SKSM: What is one thing people would be surprised to know about you?
Colin Paradine: I'm also a musician. I play drums. Preferably to some loud and heavy rock n' roll.
SKSM: Thanks for taking the time to answer my questions. Is there anything else you want to say to the fans that read this interview?
Colin Paradine: Thanks for reading and remember to support your local independent arts scene.
SKSM: Do you like something to add?
Colin Paradine: Thanks for to opportunity to share some fond memories and working on a fun project. Here's hoping all King fans will get to see it! Cheers!