Ian N. Blanco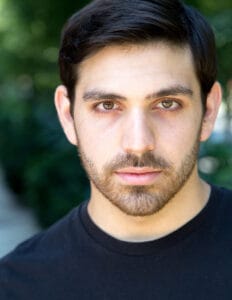 He played in Paul Inman's That Feeling Dollar Baby film as Will Shelton.
SKSM: Could you start with telling me a little bit about yourself? Who are you and what do you do?
Ian N. Blanco: My name is Ian Blanco. I'm was born and raised in New Orleans to some of the greatest parents in the world. My Mom is from Mississippi and my Dad, Costa Rica. From an early age I was interested in performance and spent my school years in pursuit of both academic and artistic endeavors. I went to NOCCA arts high school and began training in Musical theater and continued such training at Wright State University in Dayton, OH. I've been lucky enough to have spent my entire adult life employed as an actor. I've performed in nearly every state and internationally in Europe, China, UAE, and Taiwan. I love being active either on stage or in recreational sports or with simple exercise. I love food, especially canjun and creole. However, Family is what I treasure most. My wife and I met in a production of Grease! and we've been performing together up until the Covid 19 shutdown. But in the dark, light can be found. We discovered we were pregnant and now have a beautiful 7 month old baby girl. Being a father has been one of the most fulfilling experiences in my life.
SKSM: When did you know you wanted to become an actor?
Ian N. Blanco: My family raised me on some of those golden age movies with Gene Kelly and Fred Astaire. I was always outgoing and performing on my own. Then I had to pick an after school program in kindergarten and went with dance since my brother was already in music. I was cast as a leading role in my first performance and was immediately hooked. My artistic pursuit evolved to musical theater as I wanted more opportunities to perform. So now I'm a Actor, Dancer, Singer!
SKSM: How did you become involved in That Feeling Dollar Baby film?
Ian N. Blanco: My wife and I had recently moved down to Myrtle Beach from New York due to the pandemic and pregnancy to be near her family. I joined Backstage in hopes of finding more film/tv or voice over work as they normally require less time and travel. I wanted to be with my wife and daughter as much as posible. So when I saw a local production, I jumped on the opportunity. Thankfully Paul liked my audition and hired me after the callbacks.
SKSM: What do you think it is about the story that attracts people so much?
Ian N. Blanco: It has this great sense of disorentation. It throws you around as you keep revisiting moments in the story. It's like a thriller mystery as your mind tries to piece the puzzle together.
SKSM: Did you have to audition for the part or was it written directly for you?
Ian N. Blanco: I audtioned for the role. Paul and I hadn't meet before this production.
SKSM: You worked with Paul Inman on this film, how was that?
Ian N. Blanco: It was great! It was my first time as a lead role in a film. I had fun getting to be front and center for a lot of the ideas around the visuals and scene work. Paul did a great job of listening to everyone. I felt like my opinión mattered even if my idea was turned down because we took time to discuss it.
SKSM: Was there any funny or special moment when they made the movie that you would like to tell me about?
Ian N. Blanco: We had this one day where we shot on a plane sitting at the airport here in Myrtle Beach. When we got close to the last couple of shots, we started hearing a helicopter. It was a helicopter tour that was stationed right next to the airport. The problem was that it was just a short loop into our audio range as the copter lands that happened every 5-8 mins. Which is a nightmare for audio since the background noise needs to stay consistent througout a scene. After several takes we finally figured out the time and would wait for the copter to land and rush to get the shot. ONe of those things that is so ridiculously frustrating, it becomes funny.
SKSM: Do you still have any contact with the crew/cast from that time? If so with who?
Ian N. Blanco: I've kept tabs with some of the crew through Instagram, but have mostly kept in contact with my costar Cait. We both are pushing into the fim genre and so we've sent each other tips and advice as we progress in our careers.
SKSM: What are you working on nowadays?
Ian N. Blanco: I'm having fun being a father while finding projects here and there. I got another lead role that filmed in my hometown of New Orleans and have done a few voice over projects. With the U.S. starting to reopen, live theater is coming back and I'm looking to get back on stage after more than year of absence from it.
SKSM: Are you a fan of Stephen King's work?
Ian N. Blanco: I'm not much of a reader to be honest. However, I do love nearly every movie based on his stories and I have done some delving into his meta world that connects all his stories together.
SKSM: What is one thing people would be surprised to know about you?
Ian N. Blanco: I'm not sure it is much of a surprise, but I'm a proud Eagle Scout. I was involved with the scouts up until Hurricane Katrina. After we finally moved back to New Orleans two years later, I just didn't have time to return to my troop.
SKSM: Thanks for taking the time to answer my questions. Is there anything you want to say to the fans that read this interview?
Ian N. Blanco: Thank you for supporting projects like these. It allows artists like myself to work and provide wonderful stories for fans like you. I hope you enjoy this production as mush as I enjoyed making it.
SKSM: Do you like to add anything else?
Ian N. Blanco: Yeah! My wife was able to get a featured role in the film shortly after birthing our child! She looks amazing!