James Hagan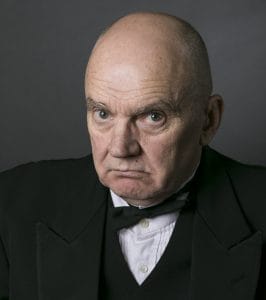 He played in Alexander von Hofmann's Dollar Baby Harvey's Dream as Harvey.
SKSM: Could you start with telling me a little bit about yourself? Who are you and what do you do?
James Hagan: My name is James Hagan and have been a professional actor for 43 years.My professional career began at the age of 21 at the Perth Playhouse in Western Australia. Im 64 years old and after spending many years performing in Sydney, Melbourne, Britain, Europe and Asia, I have returned to my beautifull home of Perth. I have a lovely wife, Avril, a beautifull daughter, Samantha, a georgeous grandson, Cooper, and Tyrone my son in law.
SKSM: When did you know you wanted to become an actor?
James Hagan: My sister was an actress and a very good one. (You can see her in the latest MAD MAX film playing Charlize Therons mother). As a boy I loved going to see her when she came to Perth in a play. Loved watching the show and loved the backstage atmosphere. I started doing amateur theatre from the age of 13 and loved that too. However, I also loved poetry and, God help me, yearned to be a poet. At the age of 16 I realised I had no talent for writing poetry at all. It was a heartbreaking discovery. Our parish priest who seemed a very old man to me -he was probably younger than I am now- came to see me .He was a truly saintly man, but was affectionately mocked by my snobbish family for being a bit of a boor and something of and old women. Despite our feelings of superiority our family was poor and our parish had been paying to send me to an expensive private school. I had recently failed my junior year exams (I was even a worse scholar than a poet). This dear old man could see that the parish couldn't go on financing the education of a dunce like me and he asked me what I wanted to do with my life. I talked rather pompously of wanting to be a professor of English literature at a university! This from someone who had barely passed his ENGLISH EXAM! He simply said, "why don't don't you go into acting like your sister". Something inside me clicked. I KNEW that was what I was going to do. So this simple priest knew more than this vain delusional boy. Please say a prayer for all good priests.
SKSM: How did you become involved in Harvey's dream Dollar Baby film?
James Hagan: A talented young Perth director Alex von Hoffman, with whom I had worked before, offered me the part. I never work for no money,so after my fee was agreed to, I accepted.
SKSM: What do you think it is about the story that attracts people so much?
James Hagan: We all have dreams that appear more real than reality.In that moment when we awake from such a dream we believe the events of the dream actually happened. I like so many others am a parent and the notion of the death of one of our children fills us with a horror beyond anything else.
SKSM: Did you have to audition for the part or was it written directly for you?
James Hagan: Alex told me that he had me in mind as soon as he decided to do the film. So many of the lines in the film are taken from Stephen Kings story, so I cant really say that the film was written for me.
SKSM: You worked with Alexander von Hofmann on this film, how was that?
James Hagan: Alex was very easy to work with, but I had done my homework on my lines and on my character. Except for camera angles he gae me very little direction, which as an experienced actor I like! I did not learn the lines word perfectly. Usually I hate actors not being word perfect as this seems to me sloppy and disrespectfull towards the writer. However with this piece I wanted to get a halting quality to Harveys speech and hopefully add to the tension of Harveys revelation. Alex being a good director understood and was fine with this.
SKSM: Was there any funny or special moment when they made the movie that you would like to tell me about?
James Hagan: Nothing funy happened on the shoot, but something very interesting did. As I said before I do not believe in working for nothing,everyone can pay something. It is not a very nice comment on human nature, but people generally do not respect those who do things for nothing. During the 2 days of shooting I was treated with the greatest respect by the film crew, but Caroline Mckenzie who played my wife so beautifully, was treated in avery off-hand manner (though not by Alex). Caroline did her part for nothing. Alex remains a good friend who I talk to occasionaly and I have worked on another film with him. I also like his beautifull and delightfull wife.
SKSM: What are you working on nowadays?
James Hagan: At the moment I am busy working with my wonderfull students. I teach acting, voice and accents. Two days a week I perform at the old Fremantle prison, where I play a cop killer from 1921 and apparently scare the audience to death! I'm also involved in a series of radio plays as an actor and producer.
SKSM: Are you a fan of Stephen King's work?
James Hagan: Not really. Mr King believes in ghosts, goblins and supernatural evvents -I believe in Christ. I enjoyed the original TV version of IT, but that was largely because I had a king-sized crush on the lovely American actress Annette Otoole.
SKSM: What is one thing people would be surprised to know about you?
James Hagan: I loooove Donald Trump.
SKSM: Thanks for taking the time to answer my questions. Is there anything you want to say to the fans that read this interview?
James Hagan: Thank you for taking an interest in my work. It is very gratifying for an actor.
Love,
James Hagan